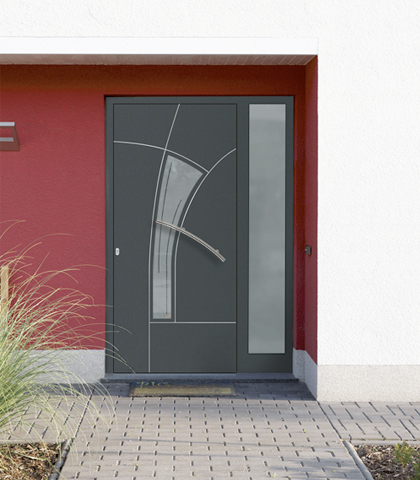 Front Doors
Obuk door panels
The OBUK product range includes around 150 base models made of aluminum, fiberglass resin, and glass. Design styles ranging from classic and timeless to modern cover almost every style of architecture. You can select from three different product lines:
Perfect-Line (modern, classic)
Basic-Line (modern, classic, all-glass)
Modern-Line (new special collection)
If you choose the Perfect-Line comfort package, then the most important features are already included.
The color of your choice from over 100 RAL colors or a number of metallic and texture paints
Outside window panel that is flush with the leaf available as standard for a smooth and exquisite look
Triple glazed insulated glass with an improved edge bond ensures high energy efficiency
High quality design glass, leaded glass, or rhinestone gives your door that certain something.
Easy to clean surfaces due to flush stainless steel frames
One-of-a-kind pilasters, glass, or stainless steel strips make your entrance door unique.
Wood decor surfaces, flush window panels on both sides of the leaf, designer handles, base profiles, and custom security features are available as options.
With the Basic-Line series, you have proven quality at a low entry-level price. Using the Basic-Line-Plus modular system, you can add the appropriate fittings and features to your entrance door.
Our special collection line "Motion" stands for completely new entrance door surfaces.
Choose from ten door panel models with ground aluminum cover panels with an aesthetic simplicity.
The unusual, varying texture is created by ground and subsequently anodized aluminum. As your perspective and lighting angle changes, the visual effect caused by the ground surface changes. A fascinating, multifaceted effect that turns a door into an impressive design element.
Three different grinding patterns, all of which follow curved vertical lines, create fascinating appearances. Inspired by nature, the result is organic forms that remind one of landscapes, waterfalls, or other images.
The Motion line already includes the most important features
Choose your grinding pattern as desired in one of three anodized colors
Door panels can be recessed or flush on one or both sides of the leaf
For the inside: the RAL color of your choice or wood or decor surfaces
Triple glazed glass with Ug value of 0.7 and spacers with insulated edges
Depending on the model, matte or polished stainless steel or flat stainless steel strips, 15 or 40 mm wide
High quality outside handle without fingerprint available for selection
Flat stainless steel kick plates, height 80 mm
Choose from flat or raised cylinder lock rosettes
OBUK entrance door collection explained in simple terms